Vision And Values
" Individually, we are wonderfully made. Together, we are God's masterpiece."

Each member of the All Souls' family supports each other to flourish as happy, confident, respectful and resilient lifelong learners, valuing and celebrating the diverse community we share.

By working together, trusting in God and living out our Christian values everyone will reach their full potential and realise their dreams.
Our Christian Values
'The depth of relationships, founded on trust and forgiveness, provides a sure foundation for each person to reach their full potential as stated in the school's vision.'

SIAMS Report – January 2020

'All Souls' is an integrated, inclusive and happy school. Its Christian character is explicit through its Christian values which are lived out in its daily life.'

SIAMS Report – February 2015
At our school, we aim to ensure that key Christian values underpin the unique ethos of our school, and are central to everything we undertake. Explicit reference to these are often made during Collective Worship, and they are a regular theme for exploration during class-based 'Thought and Reflection' sessions.
Our school has 5 Christian values that are embedded in school life. They are :-
Respect
Thankfulness
Trust
In the book of Genesis is the story of Joseph. How did he demonstrate these values through his life?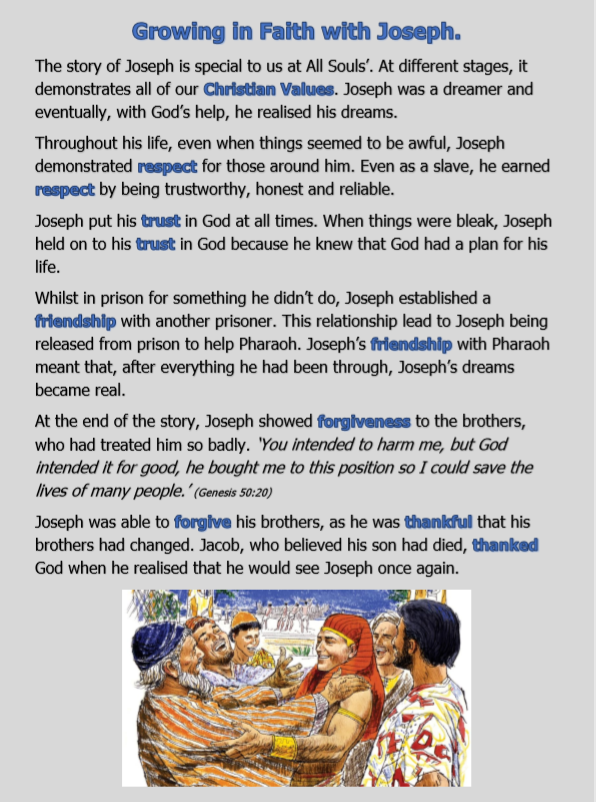 British Values
The DfE have recently reinforced the need to:
"Create and enforce a clear and rigorous expectation on all schools to promote the fundamental British values of democracy, the rule of law, individual liberty and mutual respect and tolerance of those with different faiths and beliefs."
The Government set out its definition of British values in the 2011 Prevent Strategy, and these values were reiterated in 2014.
Within our school's Christian ethos these values reflect our school values and are reinforced regularly in the following ways:
Democracy
At All Souls' we value all pupils and there are regular opportunities for pupil voice to be shared and heard. An active School Council is elected by the pupils and as well as meeting as a group they lead their peers in discussion on a range of school issues and priorities. Our School Council take their active role in the school seriously and enjoy opportunities to share in the development of school events and initiatives.
In class, pupils are given frequent opportunities to drive their learning, making decisions together on the path of exploration through their learning journeys.
The Rule of Law
We aim to reinforce the importance of Laws, be that in class, the playground, the school or the country through all aspects of school life at All Souls'. Pupils are taught to value and recognise the reasons behind laws that are there to govern and protect us and also the rules involved for us as members of the school and wider community. Also, together we learn about the consequences when laws are broken.
Individual Liberty
Within school, pupils are actively encouraged to make choices, knowing that they are in a safe and supportive environment. As a school we educate and provide boundaries for young pupils to make choices safely, through provision of a safe environment and empowering education. Pupils are encouraged to know, understand and exercise their rights and personal freedoms and advised how to exercise these safely, for example through our E-Safety, Philosophy for Kids and PSHE lessons. Whether it be through choice of learning challenge, of how they record their work, or participation in our variety of extra-curricular clubs and opportunities, pupils are given the freedom to make choices.
Mutual Respect
As a Church school, respect is at the heart of our values and ethos. Pupils learn that their behaviour has an effect on their own rights and those of others. All members of our school community treat each other, our surroundings and property, with respect.
Tolerance of those of Different Faiths and Beliefs
All Souls' CEP has a range of different faiths represented within our community. We value this diversity and use each others' experiences and beliefs to enhance our learning experiences. We enjoy finding out about the various festivals and celebrations as they arise throughout the year through firsthand experience. Our RE and PSHE curriculum reinforce not just the teaching and tolerance, but learning to value the variety of faiths that make up our school and local community. We have developed links with many local faith groups who are regularly invited into school to share their knowledge and experiences with us.
As a school we actively challenge pupils, staff or parents expressing opinions contrary to the fundamental British Values, including 'extremist' views.