Year R September 2021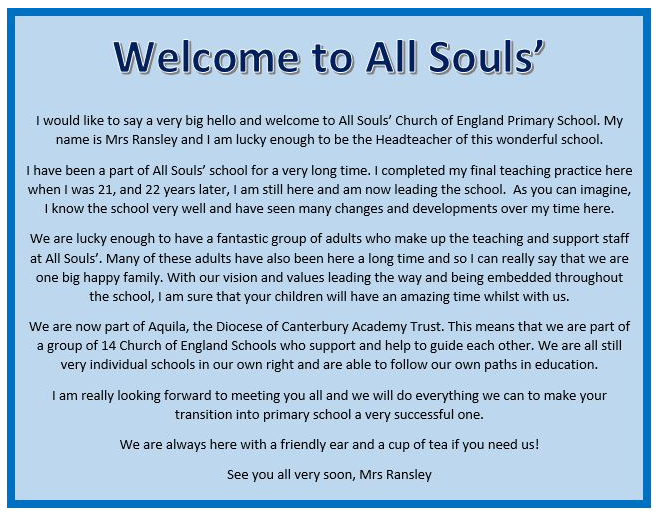 We hope you enjoy watching our video and taking a virtual tour of our school, giving you a small glimpse into our school life and family here at All Souls'.

Your guide to applying for a primary school in Kent 2021 - KCC Support booklet
New Intake September 2021: Parent / Carer Welcome Information
Dear Parents and Carers.
As our Parent/ Carer Welcome Meeting had to be cancelled this year due to the current Covid restrictions, we hope you find the information pages attached below useful in the run up to September. If you have any queries, questions or concerns please do not hesitate to contact the school office or talk to Mrs Chapman during your Parent-Teacher meeting this July.
Key Dates
Date
Information

Wednesday 7th July

Wednesday 14th July

Thursday 15th July

One to one meetings for you and your child to meet with our Head of Foundation and one of our Teaching Assistants. At these meetings we will have time to talk about anything that you wish to share with us about your child e.g. likes/ dislikes or any concerns you may have about them starting school. Please can we ask you to call Mrs Scott in the office to book a time on 01303 275967. Meetings will be between 9am and 4pm.

Thursday 2nd September

Friday 3rd September

Your child will be invited to one of our play afternoons. This will be an opportunity for them to meet with their teachers, their friends and explore their new class for the first time. They do not need to wear uniform on their play afternoon. Mrs Scott can confirm the date for your play afternoon when you call for your appointment or this can be confirmed at your one to one meeting. The timings for the afternoon will be 1.30pm-2.30pm.

Week beginning Monday 6th September
ALL Reception children will join us for the morning at 8.30am and go home at 12pm.
Week beginning Monday 13th September
Children will join us for the morning at 8.30am and stay for lunch. They will go home at 1.15pm.
Week beginning Monday 20th September
From now on, all Reception children are in for the whole day - starting at 8.30am and going home at 3pm.
In the meantime, if you would like to visit the office to collect your child's admission paperwork please do so between 10am-2pm. We will require completed forms no later than Thursday 15th July 2021.