Term 6 Arrangements
As we move into Term 6 there are still a number of conditions that schools must adhere to. These include:
Children being in bubbles (according to the need of the school), bubbles not to come into contact with other bubbles.
Staggered starts and ends to the day.
Staggered lunch and break times.
Enhanced cleaning.
Different classroom layout.
No use of shared spaces i.e. school hall for lunchtimes.
What follows is a plan that we have made. This, however, will be subject to alteration as guidance changes.
Bubbles
Due to the nature of the school we will be having the children in phase group bubbles i.e. Year R as a bubble, Year 1/2 as a bubble, Year 3/4 as a bubble, Year 5/6 as a bubble. This will allow us to continue teaching English and Maths in separate year groups across the phase in the mornings. The children will then be back in their base classes in the afternoon. Doing this also helps us with the daily organisation of breaks, lunch times and the staggered start and end of the day.
Toilets
Although guidance states that we don't have to, we have decided to keep separate toilet blocks for each bubble.
Playtime
Each bubble will have a separate playtime in the morning and will be allocated play equipment that they can share within the bubble.
Lunchtime
Pupils in Reception and KS1 will eat their hot dinners in the hall. KS2 hot dinners and packed lunches will all be eaten in classrooms. Please ensure that your child has a bottle of water to drink throughout the day and at lunchtime. Please note that due to the risk of cross contamination our water fountains have been temporarily decommissioned. Hot dinners will be served in a take-away style container.
Uniform
School uniform is expected to be worn.
Equipment
Children will be provided with a bag with all the equipment that they need for their lessons, so they will not need their own pencil cases etc. We would ask that they do not bring anything into school apart from their lunch box, and reading book. If they need to bring a bag, please ensure this is small. We will allow reading books to be taken home but they have to go into a box for 72 hours on their return before we can allocate them to another child. Please be mindful that we will not always be able to give your child a new reading book every day, the online reading through Bug club will still take place alongside school books. Children in class will be expected to be seated side by side and facing forward.
Home Learning
We will set Home Learning through the website. Each child will be allocated a book to complete the activities in. We will ask that this stays at home until the end of the term when teachers will look at everything that has been completed.
Social distancing/visitors on site
The Government recognise that young children will find it difficult to maintain distance from one another and so are not expected to do so. Adults within school also do not have to distance themselves from the children, however, we do have to distance from each other. Therefore, we will not allow any visitors onto the school site unless there is an emergency or an appointment has been made. We also cannot allow parents onto school site throughout this second term. If you need to speak to one of us, please send an email (office@allsouls.kent.sch.uk) and we will make contact with you via email or telephone. Each morning the Leadership Team will be available on the gate should you need to deliver a quick message or ask any questions. We will expect you to drop off and collect your child from outside the school as parents have been doing for the last few months. In order to help maintain social distancing, please can we ask that only one adult drop off and collect your child(ren). Thank you for your patience here as it may take a little longer to see each child to the correct adult.
Breakfast club/after school provision
Breakfast club will run from 7.45am, you should have already signed up if you would like your child to attend.
We will not be running any after school clubs during the fifth term.
Timings of the school day

Map showing the end of day collection route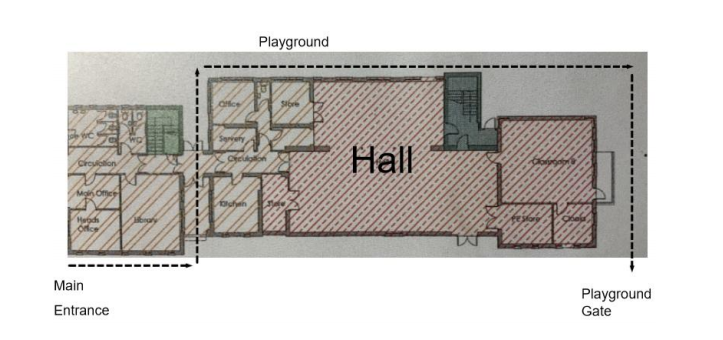 Please note, if you have two children with different start times, you will have to wait for each of their start times to ensure we are not mixing across bubbles. Please be prompt for drop off and collection so that we can ensure everyone starts and ends the school day safely. We can release the older children to walk on their own or meet you further down the road or at the park to ease congestion. Please let the office know via email if this is the case, or you have not already done so.
End of Day Collection
A reminder when collecting at the end of the school day, please do not wait in the playground if you have more than one child to collect. Please exit the playground and re-join the one-way system.

Thank you in advance for all your support with these plans. We will keep you informed of any updates or changes that we may need to make as and when we receive new guidance.