Term 1
Here you will find home learning uploaded EVERY Friday. This will be in the form of a Maths or Literacy activity relating to the children's learning in school that week.
You will also find a Wider Curriculum home learning grid with lots of different challenges on for you to have a go at! Four or more challenges completed each term leads to a special certificate from school!
Please ONLY send the green home learning books back into school on the LAST WEEK of each term so that we can celebrate the children's work together and prepare for the next term.
As always, we ask that you read for 5 minutes a day with your child, using their school book to practise segmenting and blending of sounds. Children also have a Bug Club log in available to them in their reading records which can be accessed from home.

You can log into Bug Club here! Attached below is a 'How to use Bug Club manual' if you need support to log in and access books. If you still need support, please contact your child's class teacher.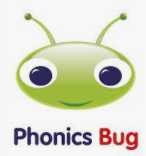 Practising Phonics and 'tricky words' daily will also be a great support to your child's reading and writing. It doesn't have to take long...what can you see on your drive/walk to school? 'trees' What sounds are in those words? ' t r ee s' What are you using to eat with? 'fork' What sounds can you hear? 'f or k'