September Reopening
You will have heard that the Government have published plans for all pupils to be back in school from September. We look forward to welcoming everyone back- it has been far too long!
We really have missed everyone and I know how difficult it has been trying to balance working but with also the need to support home learning, so well done, you have done a fantastic job!
There are still a number of conditions that schools must adhere to in order to enable us to safely bring all the children back. These include:
Children being in bubbles (according to the need of the school), bubbles not to come into contact with other bubbles.
Staggered starts and ends to the day.
Staggered lunch and break times.
Enhanced cleaning.
Different classroom layout.
No use of shared spaces i.e. school hall for lunchtimes.
What follows is a plan that we have made for September. This, however, will be subject to change as guidance changes.
Bubbles
Due to the nature of the school we will be having the children in phase group bubbles i.e. Year R as a bubble, Year 1/2 as a bubble, Year 3/4 as a bubble, Year 5/6 as a bubble. We will keep consistent adults within these bubbles. This will allow us to continue teaching English and Maths in separate year groups across the phase in the mornings. The children will then be back in their base classes in the afternoon. Doing this also helps us with the daily organisation of breaks, lunch times and the staggered start and end of the day.
Toilets
Although guidance states that we don't have to, we have decided to keep separate toilet blocks for each bubble.
Playtime
Each bubble will have a separate playtime in the morning and will be allocated play equipment that they can share within the bubble.
Lunchtime
Hot dinners and packed lunches will all be eaten in classrooms. Please ensure that your child has a bottle of water to drink throughout the day and at lunchtime. Please note that due to the risk of cross contamination our water fountains have been temporarily decommissioned. Hot dinner will be served in a take-away style container.
Uniform
School uniform is expected to be worn from September. Please ensure children have a coat as we go into the winter.
Equipment
Children will be provided with a bag with all the equipment that they need for their lessons, so they will not need their own pencil cases etc. We would ask that they do not bring anything into school apart from their lunch box, and reading book. If they need to bring a bag, please ensure this is small. We will allow reading books to be taken home but they have to go into a box for 72 hours on their return before we can allocate them to another child. Please be mindful that we will not always be able to give your child a new reading book every day, the online reading through Bug club will still take place alongside school books. Children in class will be expected to be seated side by side and facing forward.
Home Learning
We will set home learning through the website. Each child will be allocated a book to complete the activities in. We will ask that this stays at home until the end of the term when teachers will look at everything that has been completed.
Curriculum
On return to school in September, we will assess children's starting points. We will be completing assessments throughout the school in the first couple of weeks. We will also ensure that we complete learning on mental well-being and health, as we are very much aware that it will have been difficult for some children being away from school for such a long period of time. Guidance is asking that schools have a focus on English (reading, writing and phonics) and maths in the first few terms. We are allowed to adapt our curriculum to support this and the full curriculum is expected to be back up and running by the summer term in 2021. Currently, we are expecting Statutory Assessments to take place as usual. These include – Year 1 phonics check, Year 2 SATs, Y4 Times Table Check and Year 6 SATs.
This year's Kent Test will not happen until October. For those of you who have signed up for this we will update you with further information as soon as we hear more.
Illness
We ask that if your child or anyone in your family has symptoms of Covid (new continuous cough, high temperature, and/or loss of taste or smell) you must let us know and get tested. If anyone tests positive, they must isolate for 7 days and family members must isolate for 14 days. We will send children home who we feel may be unwell and we may ask you to get tested if we feel this is necessary. Please do not send your child to school for 48 hours if they are sick. We will expect you to come and collect your child immediately if we feel they are unwell. It will not always be the case that the whole bubble will need to go home if a case is suspected, or if a child or adult tests positive; as a school we are now expected to contact Public Health and they will advise on our course of action.
Social distancing/visitors on site
The Government recognise that young children will find it difficult to maintain distance from one another and so are not expected to do so. Adults within school also do not have to distance themselves from the children, however we do have to distance from each other. Therefore, we will not allow any visitors onto the school site unless there is an emergency or an appointment has been made. We also cannot allow parents onto school site throughout this first term. If you need to speak to one of us, please send an email (office@allsouls.kent.sch.uk) and we will make contact with you via email or telephone. Each morning the Leadership Team will be available on the gate should you need to deliver a quick message or ask any questions. We will expect you to drop off and collect your child from outside the school as parents have been doing for the last few months. In order to help maintain social distancing, please can we ask that only one adult drop off and collect your child(ren). Thank you for your patience here as it may take a little longer to see each child to the correct adult.
Breakfast club/after school provision
Breakfast club will run from 7.45am, you should have already signed up if you would like your child to attend.
We will not be running any after school clubs for the first term.
Timings of the school day
Year Group

Beginning of the day

End of the day

Reception - Ladybirds class

8.30am

Black gate

2.40pm

Black gate

Year 1 and 2 - Dragonflies, Bumblebees, Caterpillar class

8.30am

Playground gate

2.40pm

Black gate

Year 3 and 4 - Sharks, Dolphins, Stingrays class

8.40am

Playground gate

2.50pm

Black gate

Year 5 and 6 - Orcas, Penguins, Turtles class

8.50am

Playground gate

3pm

Black gate
Map showing the end of day collection route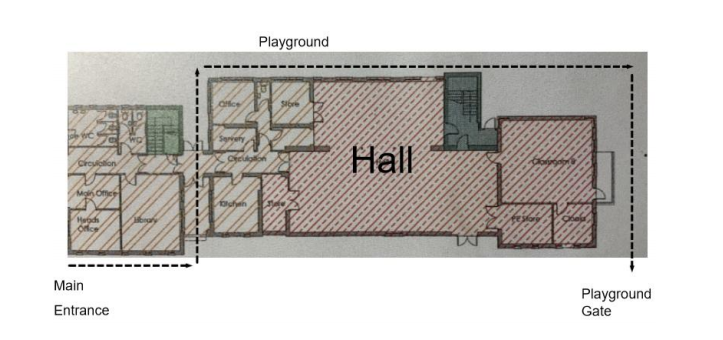 Please note, if you have two children with different start times, you will have to wait for each of their start times to ensure we are not mixing across bubbles. Please be prompt for drop off and collection so that we can ensure everyone starts and ends the school day safely.
Thank you in advance for all your support with these plans. I am sure you can appreciate that it has been challenging to make plans for a full return to school ensuring we follow specific guidance. We will keep you informed of any updates or changes that we may need to make as and when we receive new guidance.