Maths resources
Here you will find links and attachments to help you with this week's Maths learning.
Topic: Addition
Warm ups:
· practise counting forwards starting from different numbers (focus on numbers to 20)
· Practise writing your numbers to 20- http://www.communication4all.co.uk/Numeracy/Number%20Formation%20Rhyme%20Cards.pdf—think link will take you to the rhymes we use to remember the formation of our digits.
This week we are looking at addition. We will start with adding by counting on.
Start by telling an addition story, use tens frames to help you e.g.
Start by saying the number you started with '5' put it in your head. Now count on the amount you have added to find the total e.g.
5… 6,7,8. 5 + 3 = 8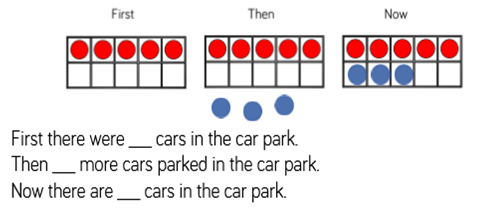 Continue by creating some of your own addition stories on your tens frames and use the counting on method to find the total.
Use other real objects at home to tell your addition stories as well!