Home Learning - Ladybirds - Week 10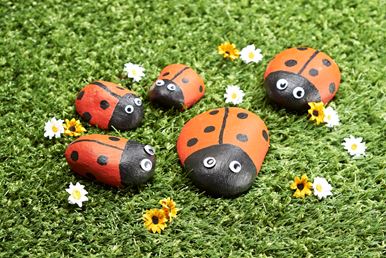 Friday 12th June 2020
Good Morning Ladybirds!
Wow! It's the end of another week already Ladybirds! It has been really lovely welcoming so many of you back to school this week and we have been amazed at how quickly you have got used to our new routines. We know you have certainly enjoyed having friends to play with.
We know that we are welcoming back more Ladybirds over the next few weeks so please, if you haven't done so already, share the 'Transition back to school' booklet with your child to help them become familiar with the changes we have had to make at this time. You will find the booklet in the menu on the right.
Yesterday in school we completed our final maths Quest from our Home Learning Grid - making numbers to 20 using the ten frames. We also tried all of our daily challenges including 'target doubles'. Some of us are getting quite quick at recalling double number facts. Fantastic!

Just look at the fabulous hobby horse that was created in choosing time. It will be perfect for when we are pretending to be Knights on an adventure.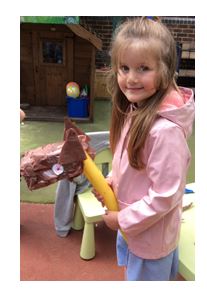 Just these challenges to go Ladybirds then it's the weekend. Yippee!
Come on, you can do it!
Today's handwriting letters: ai
Our letters today are both small letters so try hard to make them the same size when you write. As always you can watch the letters being formed with the Sky Writer tool from ict-games.com by clicking on the picture below.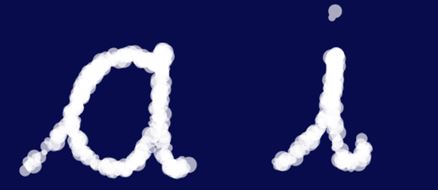 Now try your own. Remember to start with your pencil on the line each time. Can you copy the words below? Check carefully to make sure your tall letters are tall and that any 'tails' hang below the line.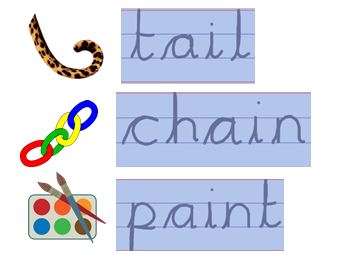 Mental maths challenge:
Let's try some adding with different coins. We are off to the bakers! Find the total amount of money in each purse then decide which yummy cake you could buy with it.
You could also play a game called 'Pay for it' on the ict-games.com website. Select 'Paying Game' and then 'Level 1'. Scan the item to see how much it will cost then choose the coins to pay for the item. (Drag the coins over to the till). Click on 'check' to see if you got it right.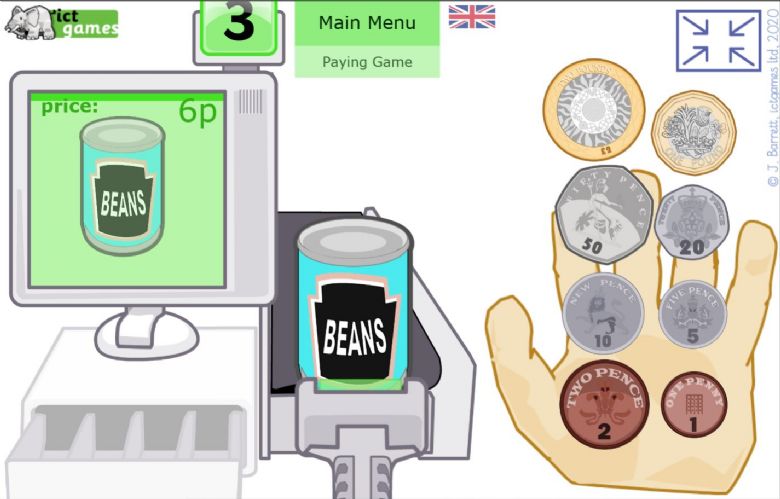 Phonics:
As always go through all your sounds and tricky words. We have now learned all of our Phase 3 sounds so please do practise them all. From next week we will be introducing the Phase 4 tricky words too.
It is Friday so that means Fun-time Phonics. Your time to choose the phonic games you love to play! They may be games you have made up yourself or a favourite one from the following websites...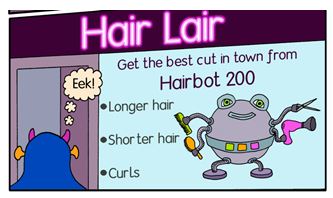 Why not read a comic from the Phonics Play website. Click on the picture to take you there. It is free to join at the moment.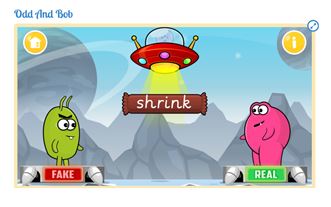 Choose real and fake words in Odd and Bob from Phonics Bloom.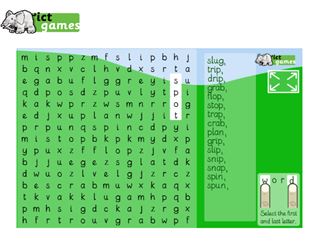 Help DJ Cow find all the words in the grid in the Phonic Finder game from ict-games
Have a lovely weekend Ladybirds. We are looking forward to seeing more of you next week in school!
If you haven't had a look yet the new R.E. home learning activity can be found on the R.E. Home Learning page and why not take part in the Reading Challenge this year. You will find all the information you need from the drop down menu on the Home Learning main page.
See you on Monday!
from Mrs Chapman and Miss Bunn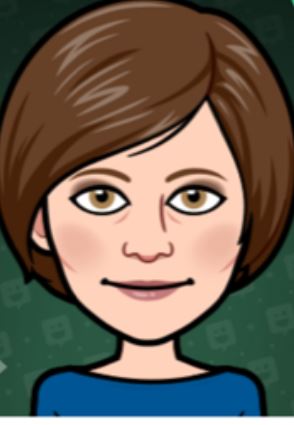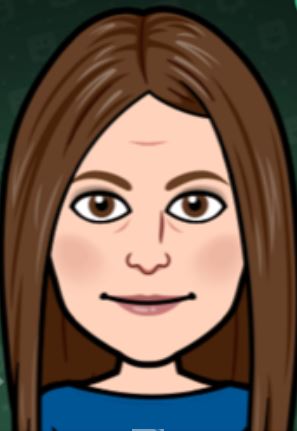 Thursday 11th June 2020
Good Morning Ladybirds!
Hello again Ladybirds. How are you getting on with your home learning this week? If you have tried out lots of the Learning Grid activities you are well on your way to becoming a real knight!
Yesterday in school we found out all about Knights and wrote our own Code of Chivalry to let everyone know the rules we would follow when we become real knights. Here are some of the things we wrote...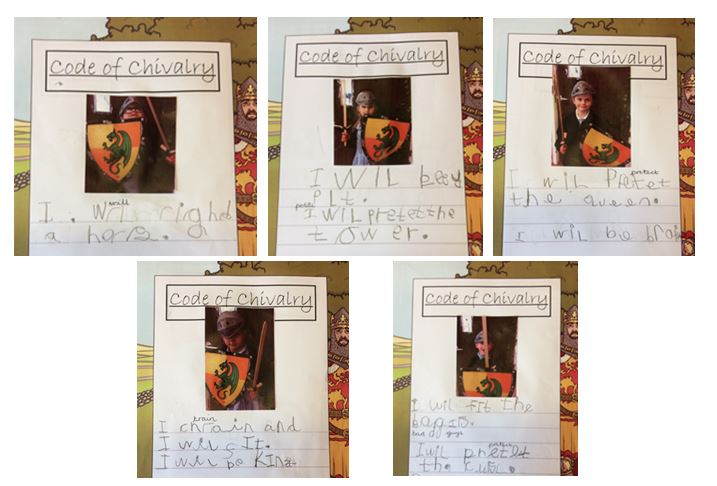 We also completed Quest 2 in our maths activities with our game of 'Don't say 20!' That was fun!
In the afternoon we played with our friends in the garden. We used the bee-bots, made paintings, created stories with the dinosaurs, played with the skittles, had a game of 'robot wars' with stickle-brick machines and enjoyed learning a magic trick from Mrs Hughes- Abracadabra!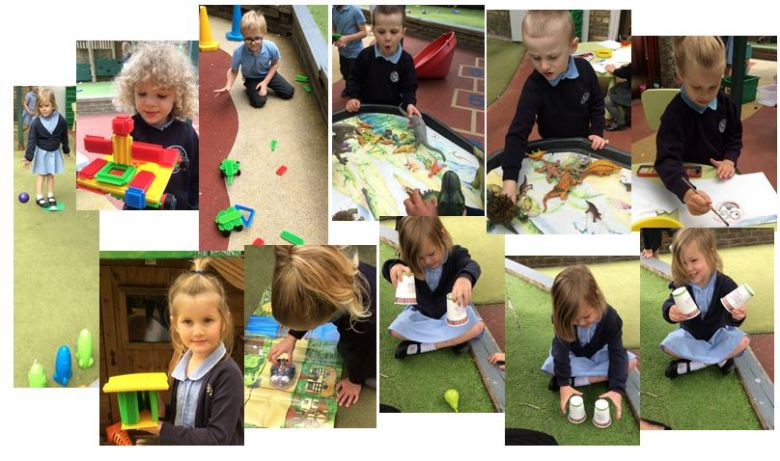 Time to get busy today Ladybirds. Are you ready? Let's go!
Today's handwriting letters: ng
Today's letters make the sound 'ng' as in strong. Watch as the little red jet in the Sky Writer tool from ict-games.com makes each letter. Have you remembered the 'g' starts just like curly 'c'.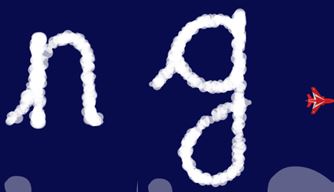 Once you have tried writing the letters yourself try to copy these words. Check carefully that you are writing each letter correctly. Are you proud of your beautiful letters? Fantastic!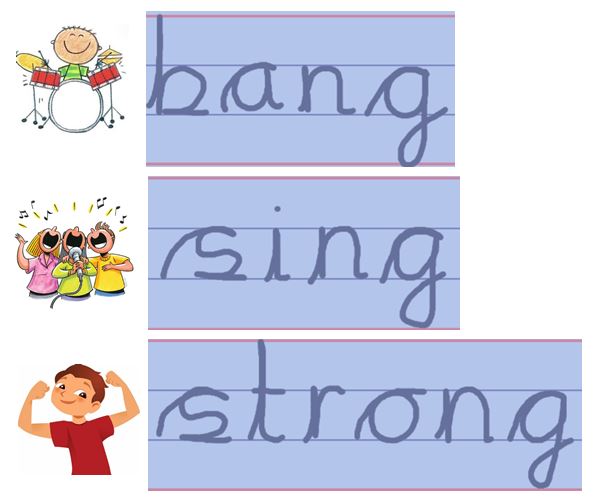 Mental maths challenge:
Let's keep practising our target skills Knights with a doubling game.
Mark out 6 targets. You could use tape, draw them on paper or use things like buckets or pots. Number each target from 1 to 6. Now get ready to take aim. Throw your 'weapon' at the targets. Your weapon could be scrunched up paper, a rolled up pair of socks or a beanbag.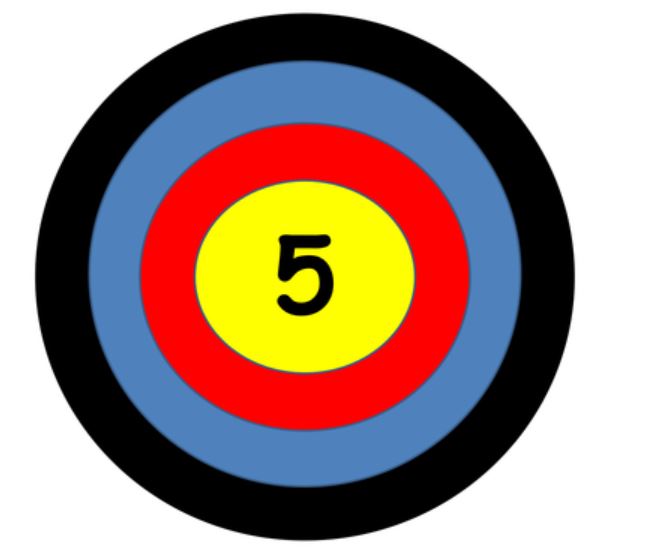 When you hit a target shout out the number then double it. Repeat the activity until you have hit all targets and doubled each number. Huzzah!
If you want a bit more doubling practice why not play the Robin Hood game from ict-games.com
Phonics: er
Our sound of the week is....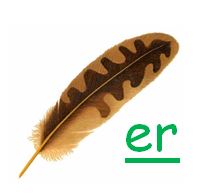 Go through all your sounds and tricky words Ladybirds then try today's activity. Can you match each caption to the correct picture? There are two versions of the activity to choose from. Click on the link at the bottom of the page to find them- Thursday's Phonic Activity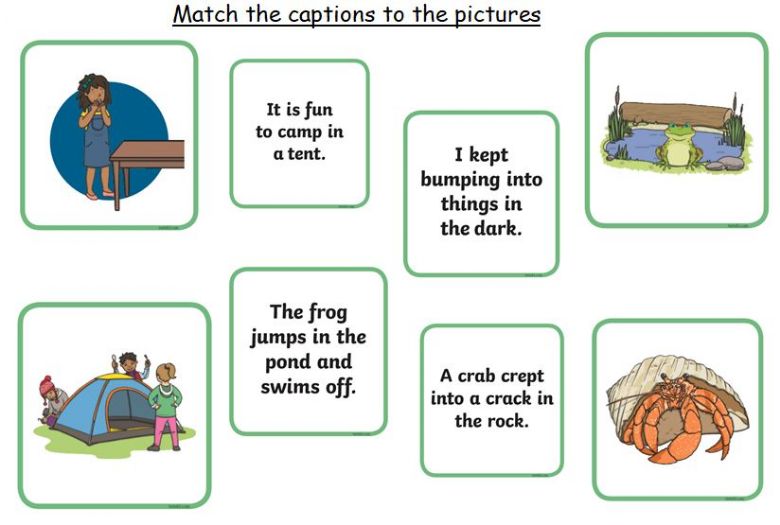 Now see if you can write a caption to match the Winter picture.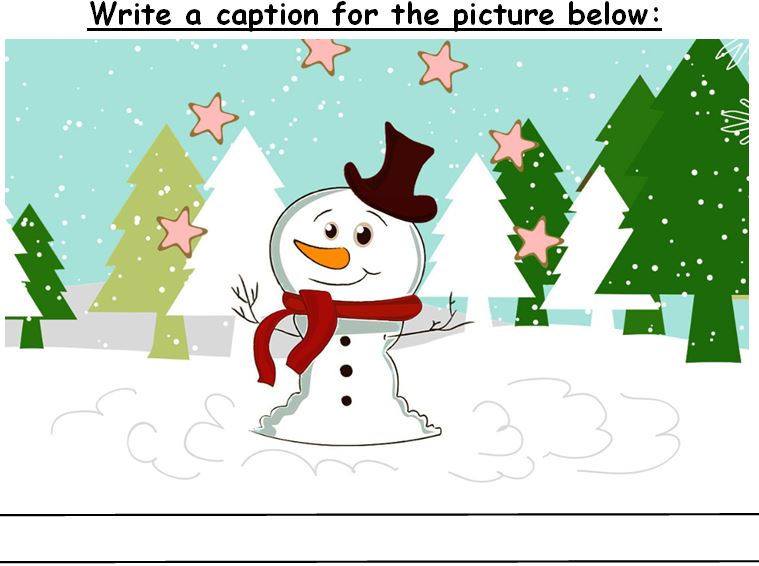 Another day of challenges completed Ladybirds. Fabulous! You are simply the... BEST!!
See you tomorrow!
from Mrs Chapman and Miss Bunn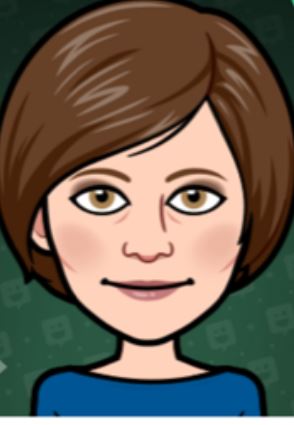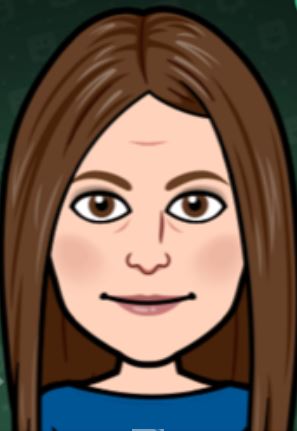 Wednesday 10th June 2020
Good Morning Ladybirds!
It's Wednesday Ladybirds so let's have a change today and make today a 'Magic' one. You could get ready for today's challenges by making yourself a magic wand- simply roll up a piece of black paper or card to make a tube shape then wrap a thin strip of white paper around each end of your tube to finish. Why not add some magic stars to show just how magic your wand is?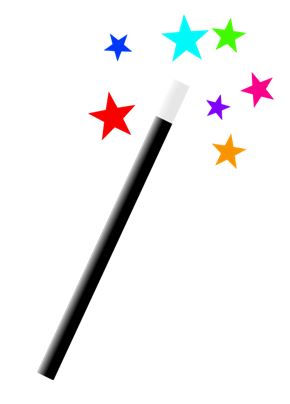 Did you have fun with your home learning yesterday? Don't forget to send in any photos to share with us to headteacher@allsouls.kent.sch.uk
Here are some of the things we got up to at school yesterday. We tried out our archery skills to defeat the fire breathing dragon. We also completed Quest 1 in our maths learning, trying to be the first to race to the end of our jousting number track. It was good fun!

There is always plenty of time for play too. We enjoyed playing in the garden, using the castle set, bug hunting and lots of making. Our makes included a princess tower, a telescope, a ghost mask and even some PPE!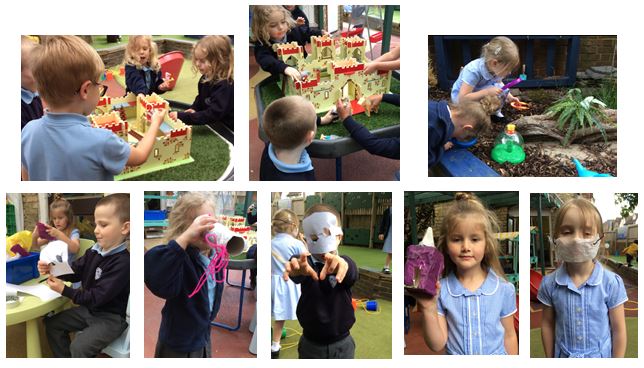 Well if your magic wands are at the ready give them a wave and say ABRACADABRA!
Today's handwriting challenge:
Today it's time for number knockout. By now we should be becoming confident in recognising our numbers up to 20 so it's important we can write them correctly too.
Don't forget you can use the rhymes from communication4all to help you remember how to form each number. Click below to access the site.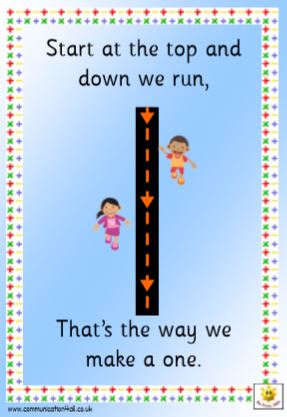 To make any number start with your pencil at the top. To play the game you will need something to write your numbers with- a glittery pen, crayons, paint or anything else will do!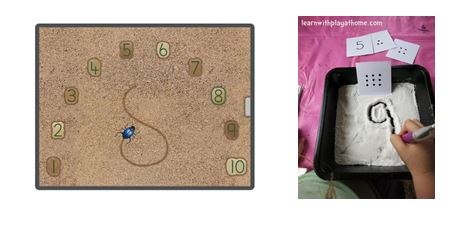 Ask a grown-up to call out a number for you to write. Think very carefully and check that your numbers are written the right way around and if you have a number with 2 digits, such as 14, check you haven't swapped the digits over. Every time you write a number correctly you are still in the game. Whoop! Whoop! If you get a number wrong you are knocked out! Give yourself a smiley face if you manage to stay in for 5 numbers.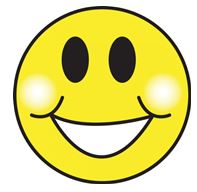 Mental maths challenge:
The magic wand is being used to create some spells. The spells will only work if the wand makes stars in a repeating pattern. Can you work out which spells will work by deciding which wands are making a repeating pattern?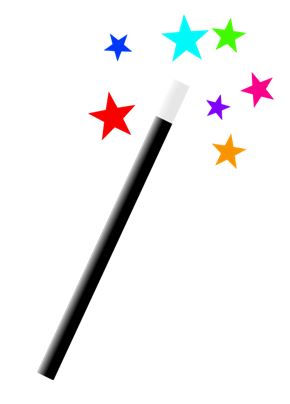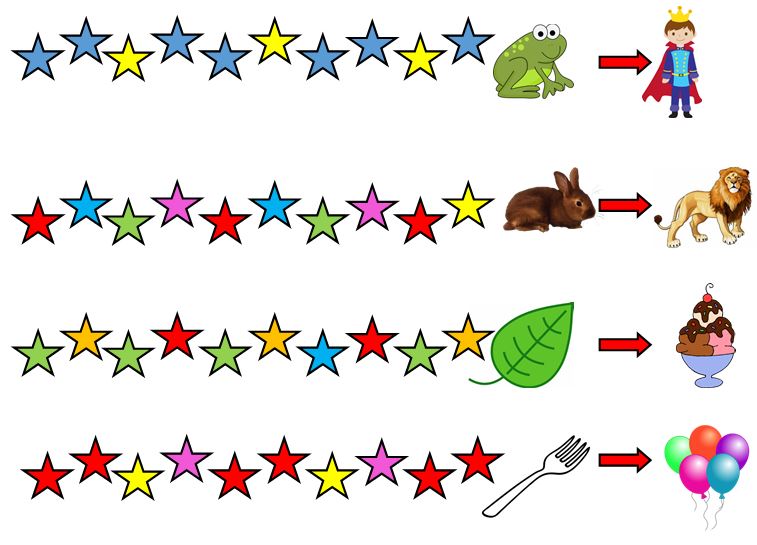 Phonics: er
Go through all your sounds and tricky words as usual. Maybe you could pull your tricky words out of a 'magic' hat today and see how many you can read. The magician has been pulling lots of different things out of his top hat. Can you write a label for each object that has come out of the hat? Remember to say the word slowly and stretch it out so that you can hear all the sounds. Can you hear our new digraph 'er' in some of the words?
Note for grown-ups: Click on Wednesday's Phonic Activity at the bottom of the page to find a printable version of the activity along with a slightly easier version for those still learning some of the earlier Phase 3 sounds.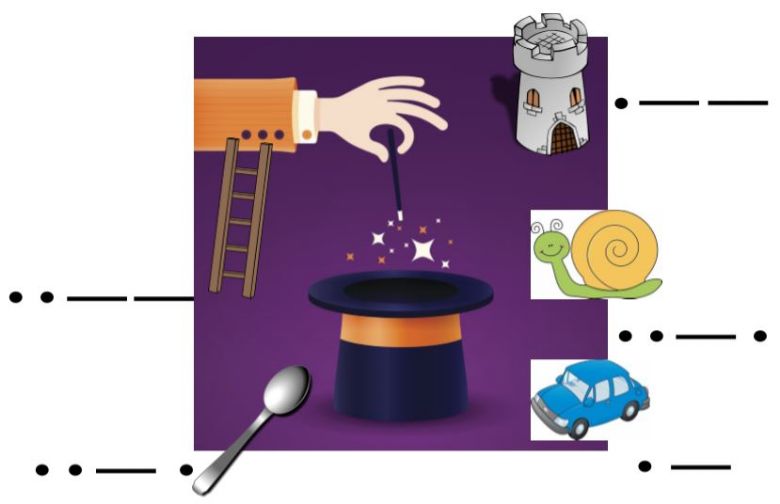 Great work Ladybirds. Why not use part of today to learn a real magic trick? Maybe you could make something disappear or turn your teddy into something else? Have fun!
from Mrs Chapman and Miss Bunn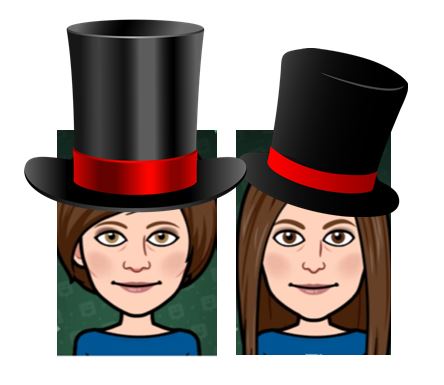 Tuesday 9th June 2020
Good Morning Ladybirds!
We hope you had a great day yesterday Ladybirds. The children in school were very busy getting used to our new class and routines and a lot of hand washing! We were also busy with our challenges and trying out one of our learning grid activities. Take a look at what we got up to: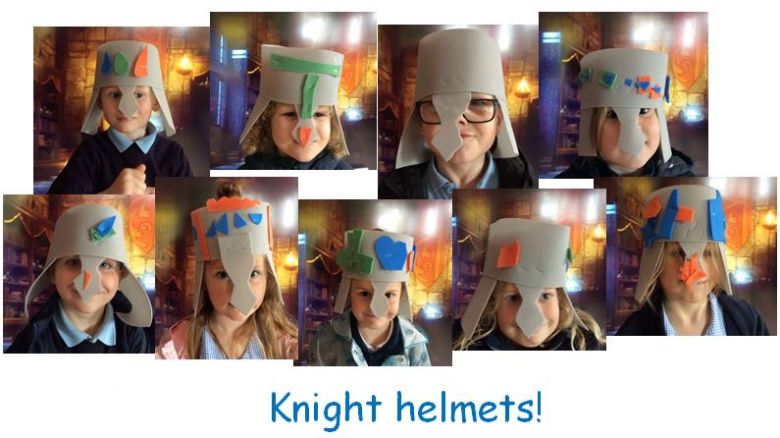 We also had lots of fun outdoors. It was good to be with our friends again!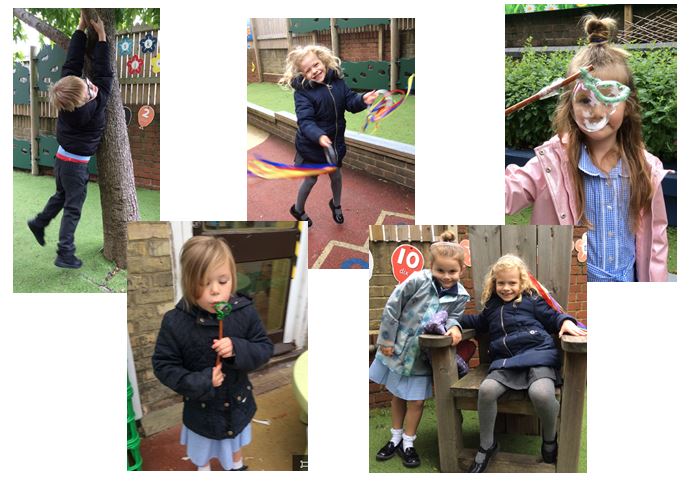 Let's get ready for today's challenges. We will be trying out some archery skills today at school. What will you choose from the Home Learning Grid?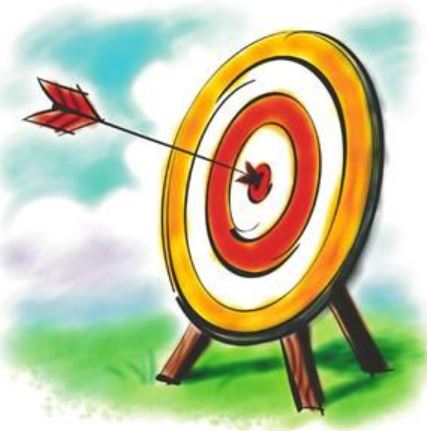 Today's handwriting letters: th
Our letters today are both tall letters so remember to stretch up high when you make them! Watch them being formed with the Sky Writer tool by clicking on the link below. It will take you to the ict-games.co.uk website. Then try some of your own.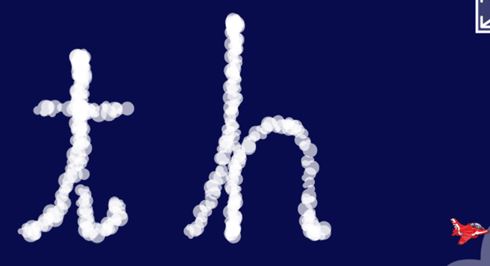 Now try copying the words below. Remember every letter should start on the line. Just check... are your tall letters all tall?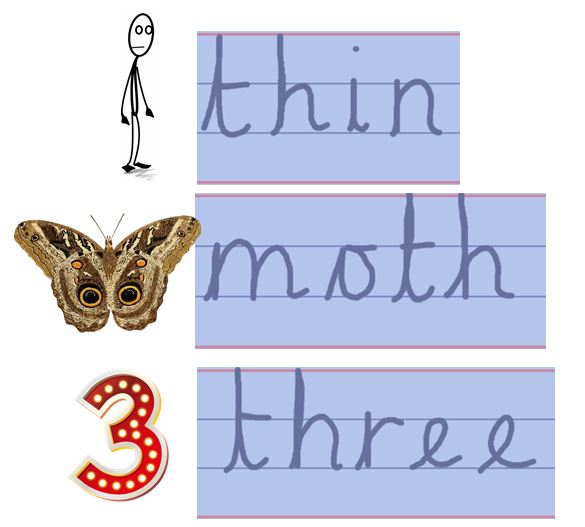 Mental maths challenge:
It's a money challenge today exploring our number bonds of 6.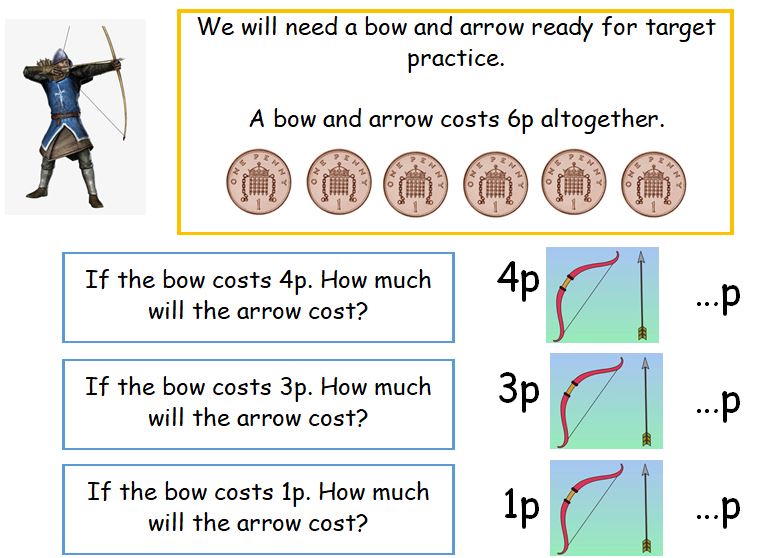 If you want to explore the number bonds of 10 there is a lovely game called 'Save the Whale' from ict-games.com. Click on the picture below to access it. You need to find the correct length of pipe so that the total makes 10 then turn the wheel. If you are correct the water will flow and the whale will escape- yippee! (You can use the arrows to change the number bond if you wish)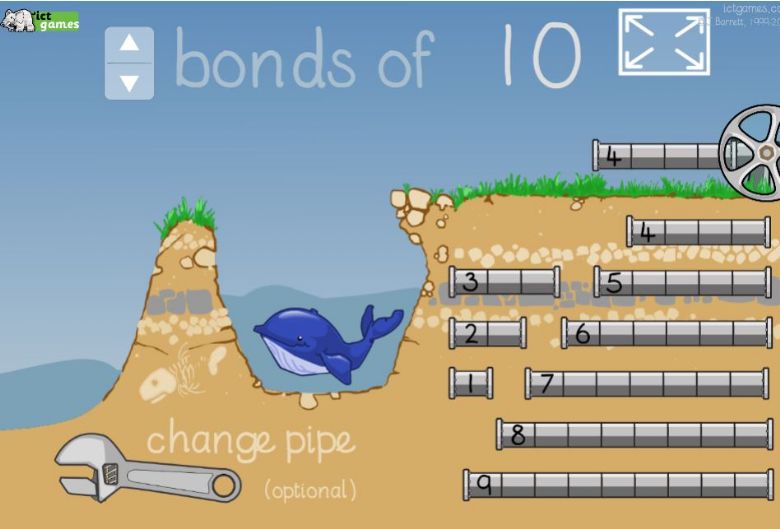 Phonics: er
Have you remembered our new digraph this week?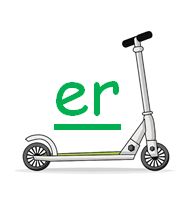 Once you have gone through all your sounds and tricky words try this reading challenge today. Blend the sounds to read each word- look out for our new digraph 'er'. Match the words to the pictures. Can you match them all in under 2 minutes?
You will find a printable copy of the activity at the bottom of the page- Tuesday's phonic activity.
Now read the sentence below. Can you draw a picture to match? There are two sentences to choose from- an easy one and a trickier one. You choose which to do.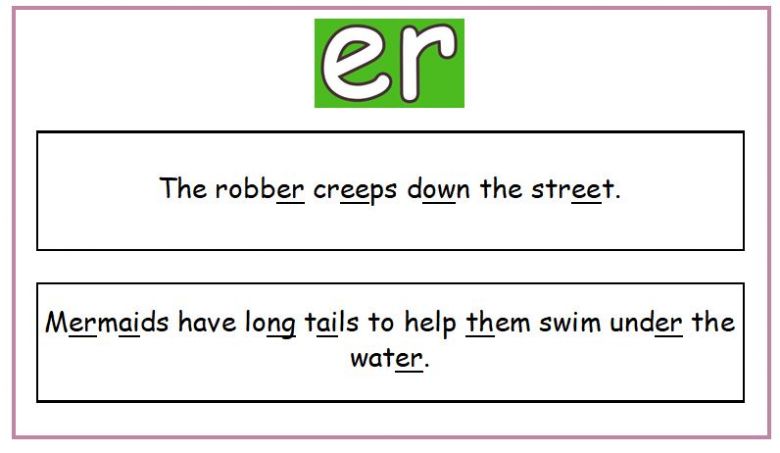 Good work Ladybirds! You are super smart! Have a great day today and we will see you again tomorrow.
from Mrs Chapman and Miss Bunn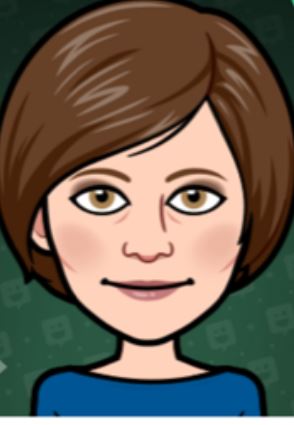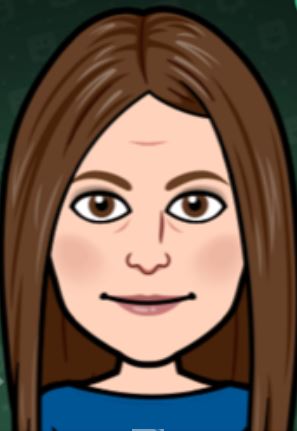 Monday 8th June 2020
Good Morning Ladybirds!
Welcome to another week of 'Knight School' Ladybirds. This week we will be finding out about the role of Knights from long ago. You will find lots of Knight activities on the Home Learning Grid at the bottom of the page. Try to do one or two activities each day along with the handwriting, mental maths and phonic challenges. This is what we will be aiming to do with those of you coming back to school.
Don't forget Oxford Owl to access lots of reading books from their e-book selection too or you might be confident now to start reading some picture books you may have at home.
A few suggestions for this week: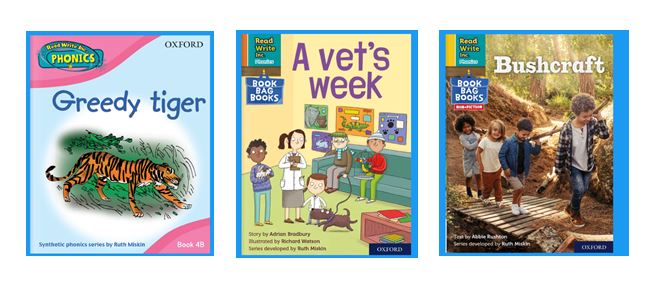 Whatever you get up to this week have lots of fun and don't forget to send in pictures for us to see in the Home Learning Gallery. Mrs Chapman will be uploading photos of what we are doing in school too.
Here's some of the things we will be doing in school today....

Are you ready Knights? Here we go......
Today's handwriting letters: sh
As we have practised all our letters we are now going to use our Phase 3 phonic sounds in our handwriting activities. You still need to form each letter correctly so watch the letters being made in the Sky Writer tool from ict-games.com before writing your own. Remember to start with your pencil on the line and to use your 'pinchy pen' grip.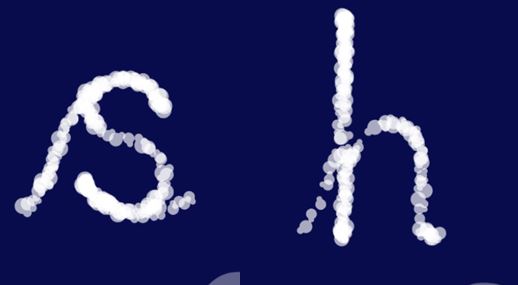 Now you've got the hang of it see if you can copy these words in your beautiful handwriting. Look carefully at the size of each letter you make. Can you keep the small letters all the same size? If you click on the pictures below it will take you to ict-games.co.uk where you can use the Writing Repeater tool to practise your handwriting on your tablet.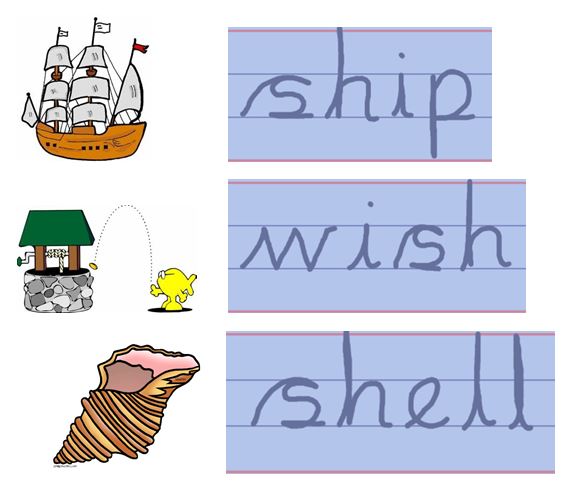 Mental maths challenge:
Let's begin the week with some ping-pong maths to help us with our counting. Decide what 'step' counting you will do... that means are you going to count in 1s, 2s, 10s or maybe 5s?
Next decide if you are going to count forwards or backwards- backwards is the trickiest!- and which number you will start counting from.
You now need a partner to play with. Stand opposite each other as if you are standing at a ping-pong table.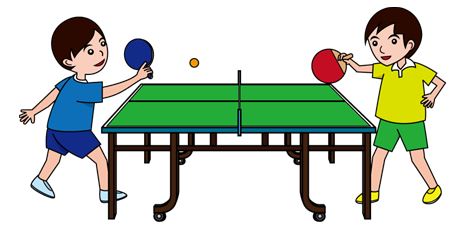 Take turns pretending to hit the ball to each other while you count in the step you have chosen. If it is too easy choose a different 'step' to count in or try counting backwards.
If you want to watch some Youtube videos of counting in 1s, 2s, 5s or 10s click below...
Phonics: er
Wow Ladybirds, we are on our final Phase 3 phonic sound this week! It is a digraph and it makes the sound 'er' as in 'Winter'. The Jolly Phonics action for this digraph is as follows....
Watch the clips from BBC Bite-size and Little Learners to hear and blend words with the 'er' sound in them. Have you noticed this sound often appears at the end of words?
And if you like a sing song just like Mrs Chapman here's another song from Phab fonics featuring
Amber the Tiger...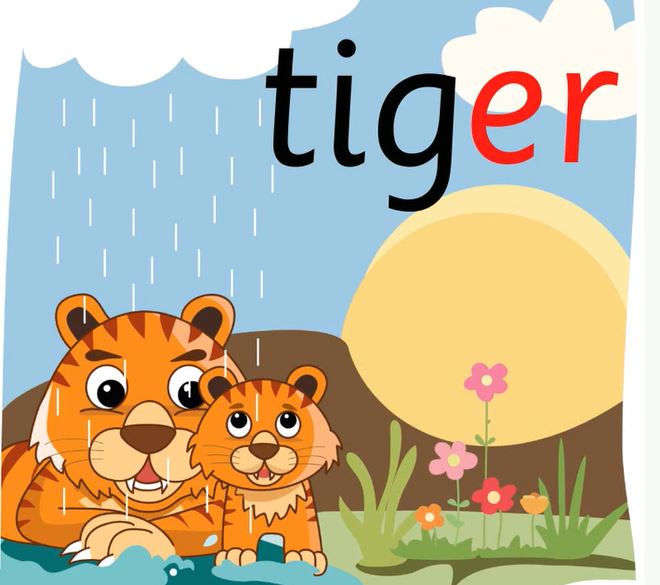 Listen out for more 'er' words today Ladybirds and see if you can spot some in your reading book or in your environment. Look at the pictures below and say the word. Can you hear the digraph 'er'?

Don't forget to practise those tricky words too Ladybirds!
Note for Parents/ Carers: From next week we will be going back over our Phase 3 sounds and tricky words so that the children are really confident in using them for reading and writing before the end of the term. We will also be introducing the Phase 4 tricky words. Phase 5 sounds and tricky words are taught in Year 1 but we do know we have a few children in Ladybirds who may be ready to start to learn some of these new sounds and tricky words. If you would like to begin to explore the Phase 5 sounds and tricky words with your child please find the Phase 5 resources at the bottom of the page.
Huzzah! We have successfully completed our challenges for the day.
A gold star for everyone still smiling!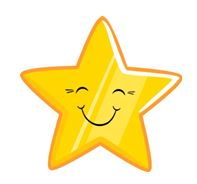 from Mrs Chapman and Miss Bunn