Home Learning - Ladybirds

Tuesday 14th July 2020
Good Morning Ladybirds!
Please find at the bottom of the page a welcome message from your new Year 1 Teachers and Teaching Assistants.
Monday 13th July 2020
Good Morning Ladybirds!

Can you believe it Ladybirds? It's our last week of Home School! Then it will be time to enjoy the Summer holidays!
For our final week we will not be setting daily activities or giving you a Home Learning Grid. It's time to wind down a little. You have worked extremely hard over the past weeks and we are very proud of you (and your grown-ups)! We have loved seeing all the things you have been up to on the Home Learning Gallery and although, sadly, we haven't all been able to come back to school together during this time we can certainly tell you have been enjoying your learning at home. Well done everyone!
Below you will find some ideas for activities you may wish to try this week based on the theme of 'Summer'. Do as many as you have time for then relax for the summer break. What will you get up to over the holidays? Mrs Chapman is looking forward to going to Alton Towers, playing tennis and canoeing.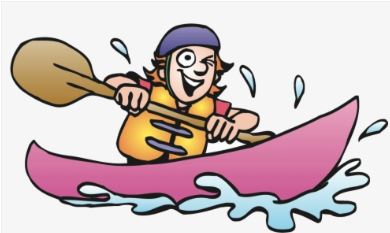 Summer themed ideas for this week
Wax resist ocean pictures: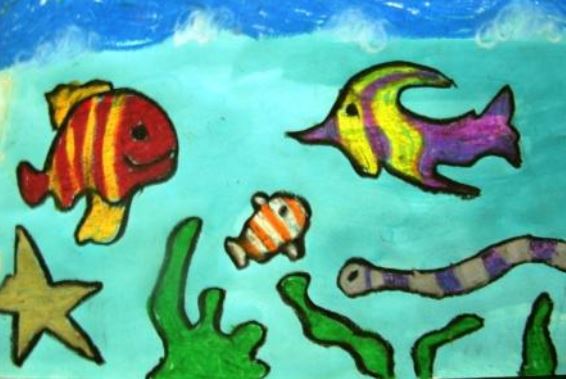 These pictures look fabulous. Draw and colour your own favourite sea creatures with wax crayons then wash over the top with watercolour paint. Click on the picture above for detailed instructions. Have fun!
Enjoy some ocean themed stories:
Click on the pictures below to watch the stories of 'The Rainbow Fish' and 'Tiddler'.
Keep Safe in the Sun!:
Share the story of 'George the Sun Safe Superstar' by clicking on the picture below.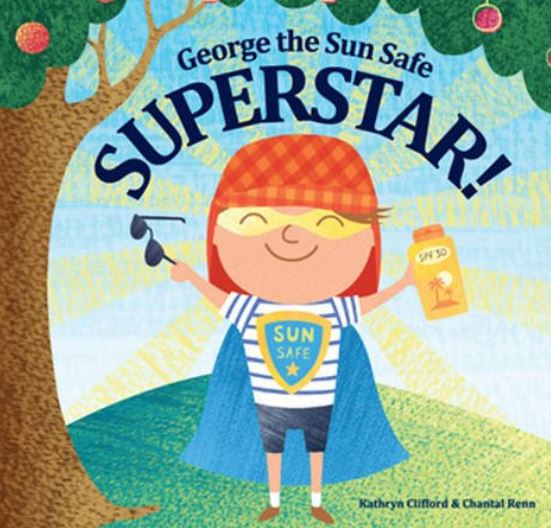 Now it's your turn to pass the message on, just like George. Can you make your own poster to tell people how to keep safe in the sun? There is a printable template at the bottom of the page.
Summer Maths:
There are lots of summer themed maths activities to be found on the Twinkl site including an ice-cream buying challenge. Yum!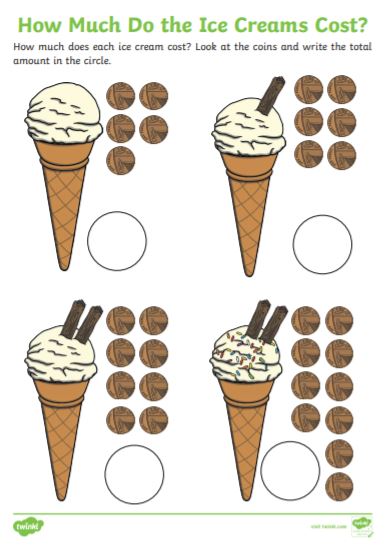 A larger and printable version (including a more challenging version) can be found at the bottom of the page. Of course you could always set up a real ice-cream shop at home!
Try out the I Spy addition activity below. Again find a larger version at the bottom of the page: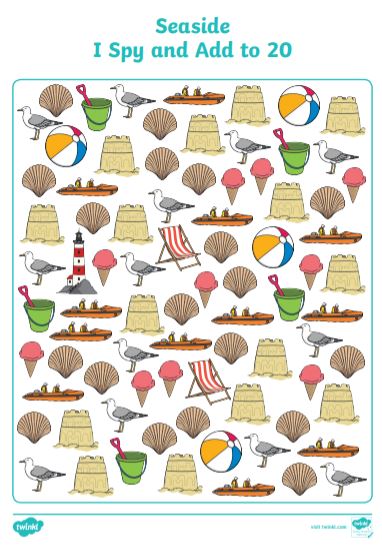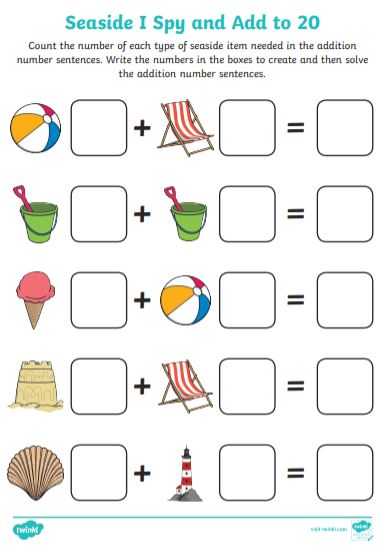 3D Fish:
Have some fun making some fish with 3D shapes. Find the templates below.
Summer Phonics:
Again the Twinkl site have lots of activities to keep your phonic skills in shape. Try out the ones below. You will find larger versions at the bottom of the page.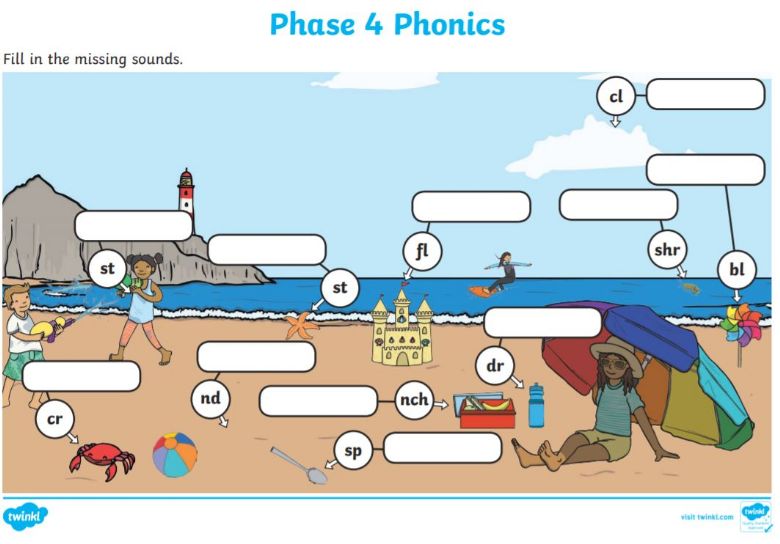 Fill in the missing sounds in the beach picture.
Read the sentences and make the pictures match!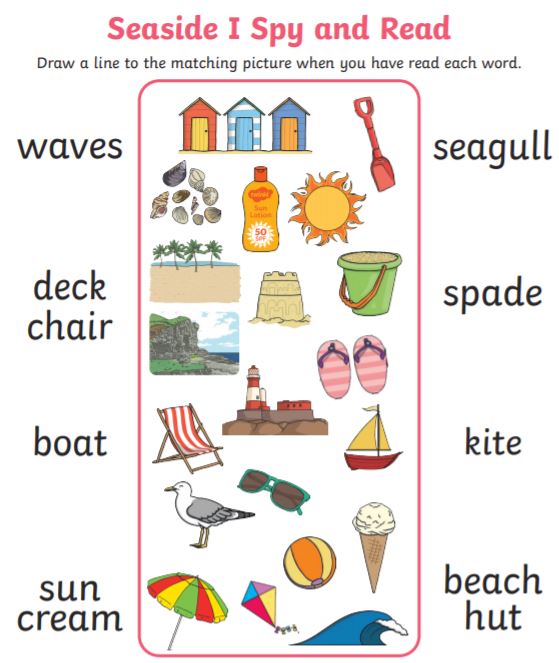 For those learning their Phase 5 sounds have a go at this I Spy activity.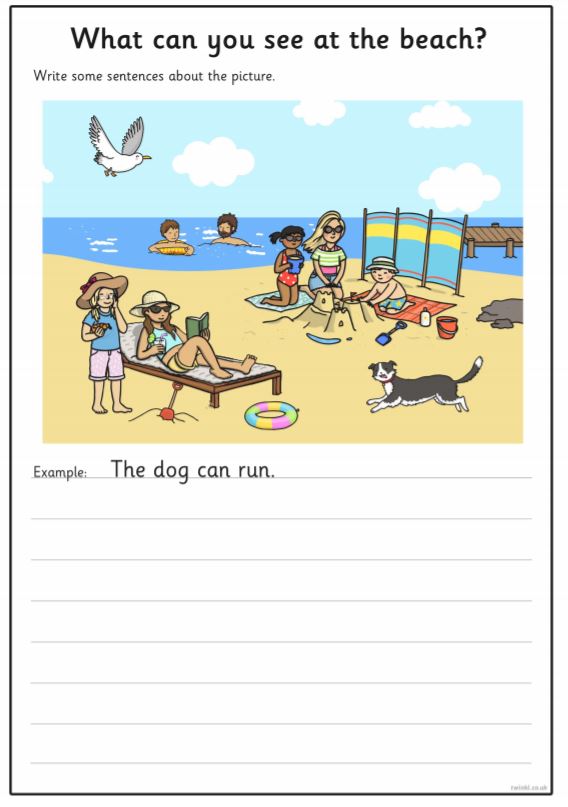 Test out your sentence skills with this writing challenge!
Summer Sports!
We missed out on sports day in school this year Ladybirds but that doesn't mean you can't have a go at home. Why not challenge your family to some silly sports races?
Ideas to try out...
Egg and spoon race (of course you could use a potato or a pair of socks or anything else!)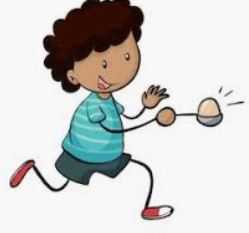 Sack race (use an old pillow case or decorate a bin bag to use and get jumping!).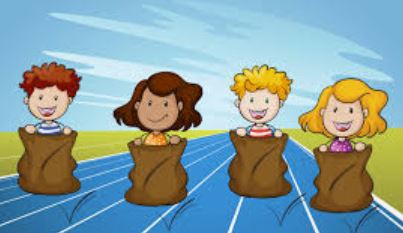 Obstacle race (make it as crazy as you like!).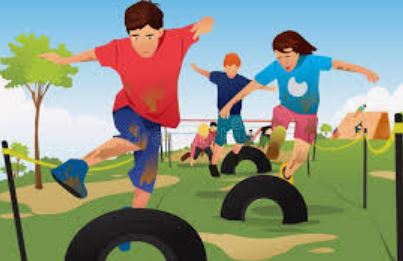 Relay race - plan the route, find a baton to pass to each family member in turn and get running. Time yourself to see how quickly your team can complete the challenge!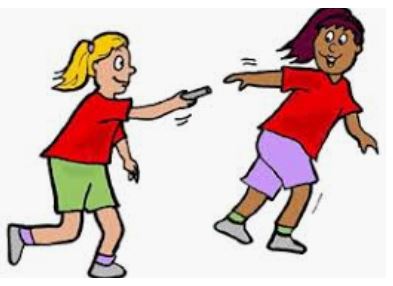 Don't forget to cheer each other on and award yourself with a sticker or something for taking part and having a go!
We hope we have given you plenty to choose from this week Ladybirds. Have fun whatever you decide to do!
It is with sadness that our time together as the Ladybird Class is coming to an end. You have grown so much over the year and are now ready to begin your adventures in Year 1 with your new teachers and friends. Miss Bunn is also leaving the Ladybird Class as she begins a new teaching job in September. We will certainly miss her and wish her all the best!
A message from your new teachers will appear here very soon but from all of us in Ladybird Class- Mrs Chapman, Miss Bunn, Mrs Hughes, Mrs Horne and Mrs Limbu we wanted to say a special 'Thank you!' for all your amazing efforts this year and for keeping us smiling throughout. You are true superstars and we are going to miss you all!
Please print off the following certificate to keep as a memory of our time together. Scroll down to the bottom of the page to find the link.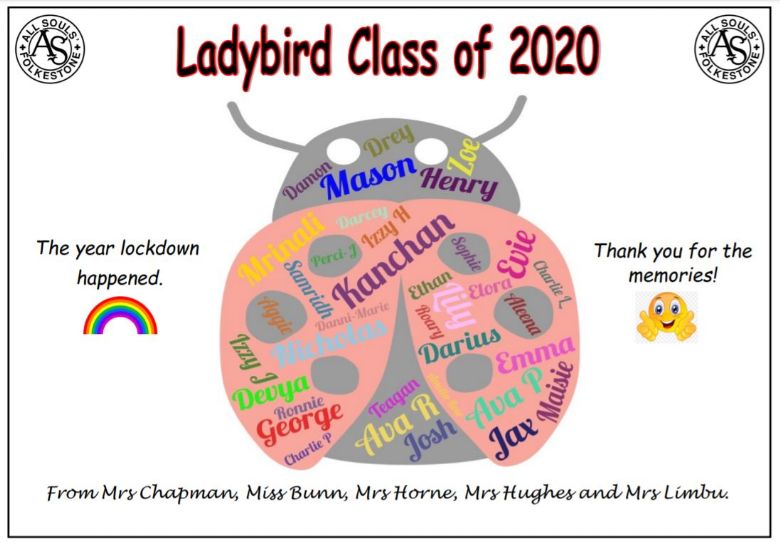 Have a fabulous Summer Holiday Ladybirds. Have fun, keep safe and we will see you in September!
from Mrs Chapman and Miss Bunn