Collective Worship - Term 4
Hello everyone and welcome back to Term 4. Hopefully, you had a happy half term break and that you were able to get outside in the much warmer weather. The signs of spring are beginning to appear and the Christian festival of Lent has begun.
Many people either give up something for the forty days of Lent or they take up something new. Mrs Swansbury has sent me 40 Acts of Kindness, which I am trying to carry out and you may like to do some of them too. Have a look and see what you could do to make someone else's life a little better this week. You could email me to let me know what you have done. jwright@allsouls.kent.sch.uk
Sending my best wishes to you and your families,
Mrs J Wright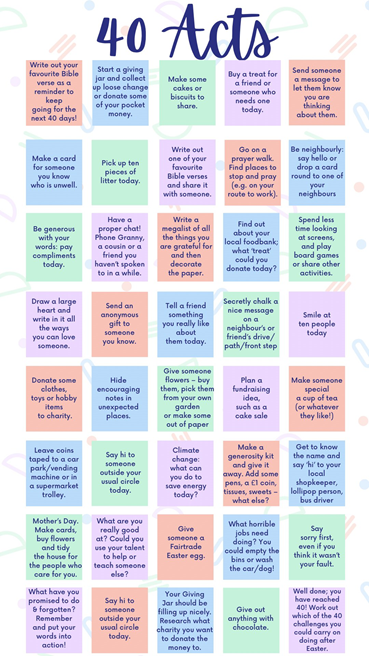 Week One
Clip one - Lent: Light and energy
Worship with Mrs Swansbury - The journey through Lent to Easter - Light and Energy
Once you have watched the clip, perhaps you could carry out one of the acts of kindness from the list of forty above. One of them is 'Smile at ten people today', which should be easy to do to start you off or perhaps there is something else that you could achieve to make others feel better.
Clip two – Lent: Water
Worship with Mrs Swansbury - The journey through Lent to Easter - Water
You might like to listen to this song while you think about the different ways that you could use water more wisely. Click on the image below for the song.