Bumblebees - Years 1 and 2
Friday 19th November 2021
What has Spoony been up to?!

This week, we have learnt all about story writing! We have thought about the structure of our story sentences and have created a beginning, middle and ending to our very own Spoony Adventures!
He has been to lots of places in Folkestone, a very busy Spoon!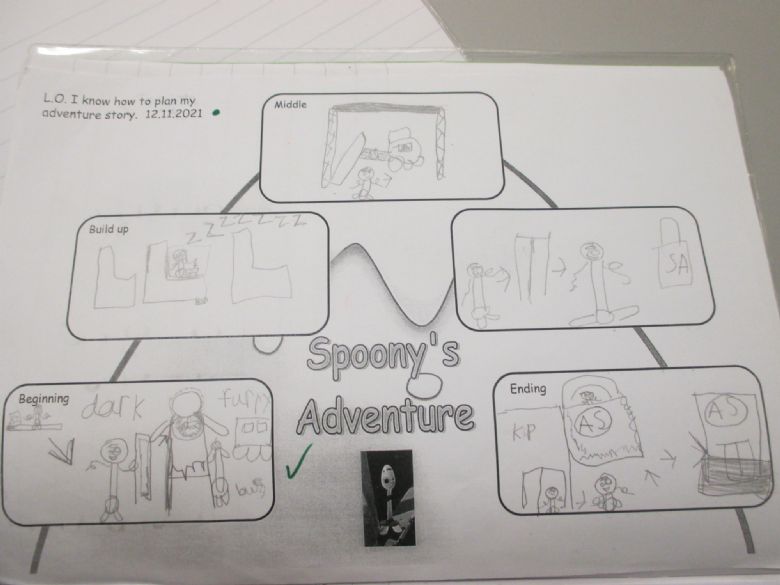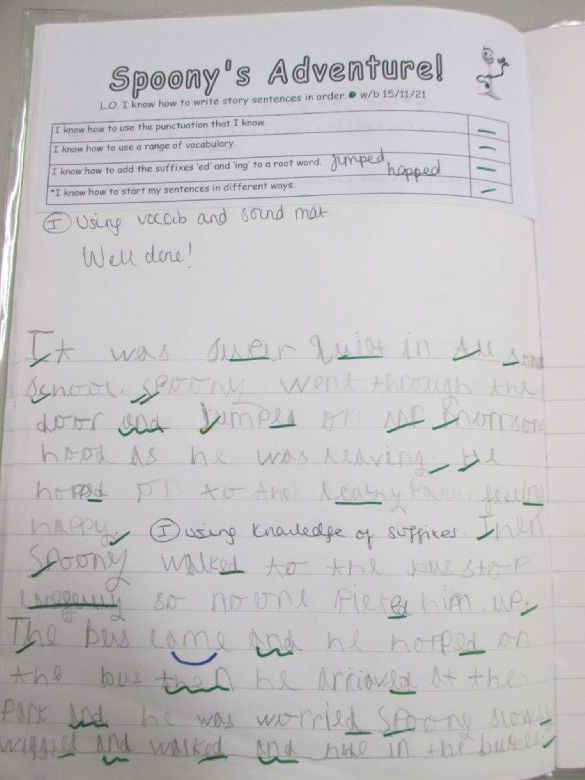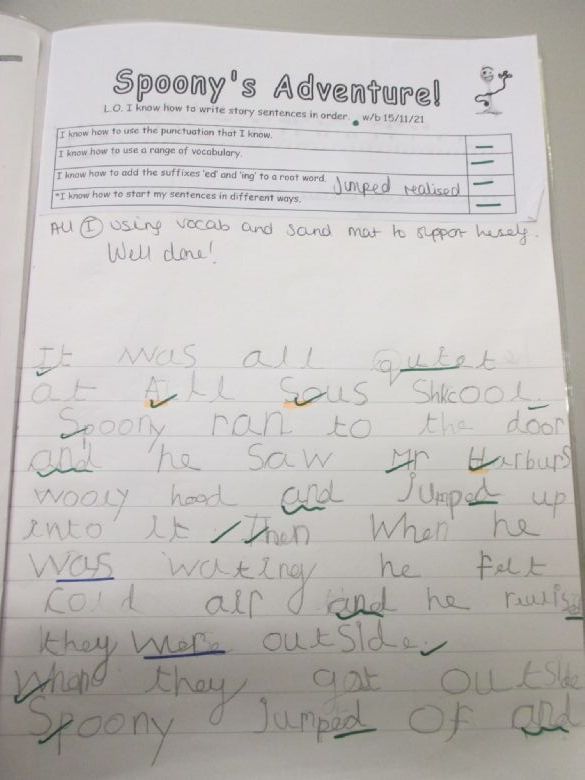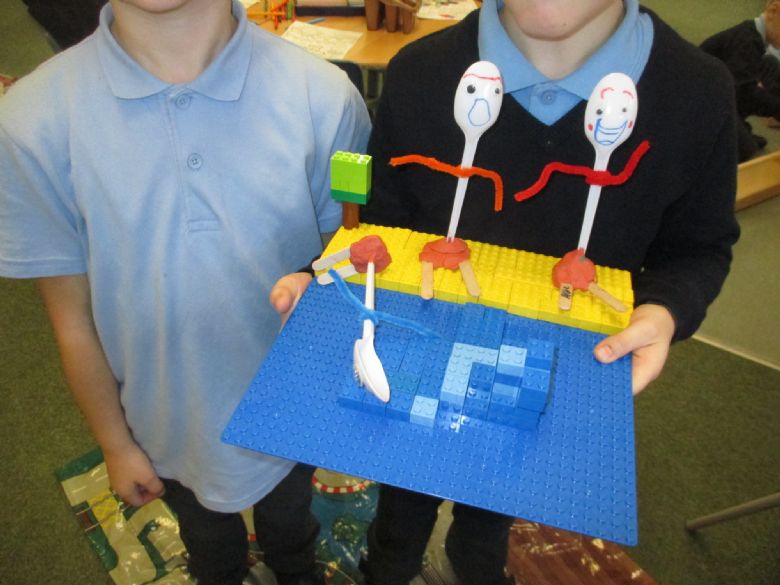 In our History lessons, we have continued to think about our favourite toys and began to compare them with toys from the past. We used our vocabulary to talk about and share our knowledge of old and modern toys. Can you spot any toys you have at home?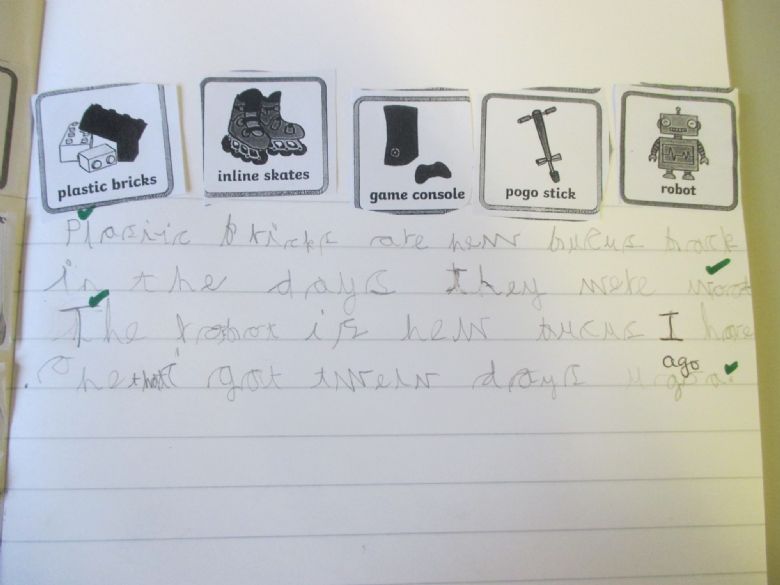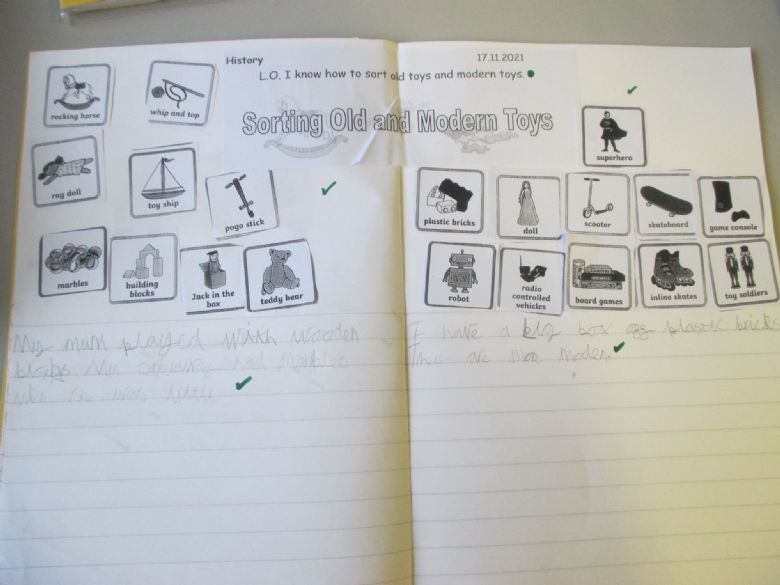 This week, we have also celebrated Children in Need and thought about Anti-Bullying week. In Spiritual Development we discussed the questions "why is it important to share with others?" We are proud to say we have lots of brilliant ideas!
Can you see out odd socks?!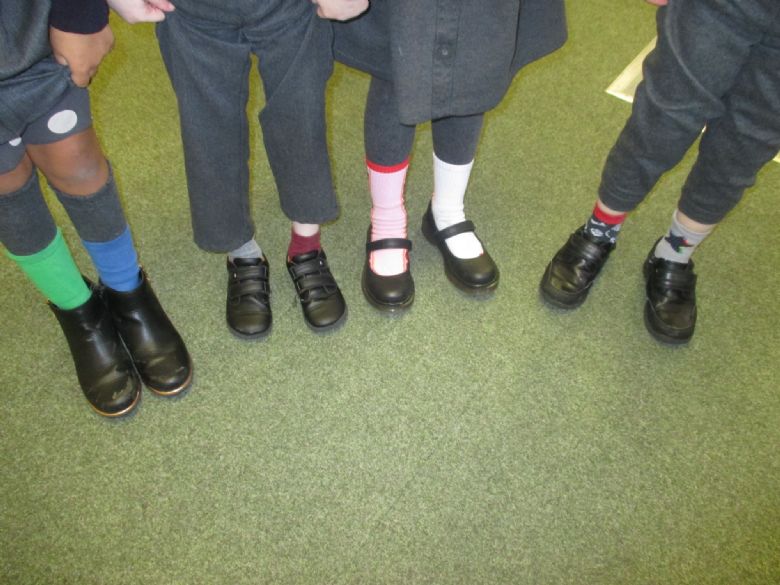 We think this week has really flown by! Thank you to all those who booked a call with us to discuss your child's learning the last couple of weeks, we have really enjoyed sharing great news with you! Remember, to keep that reading up over the weekend and practise your tricky words for a few minutes each day!
See you on Monday!
The Key Stage One Team.
Friday 12th November 2021
Spoony is lost.......and found!
We have had an incredibly exciting week in KS1! We are using the concept of Toy Story 4 and the character 'Forky' to support our writing. We used our skills to make our very own 'Spoony' and described them carefully. We then found out that our teacher's Spoony had disappeared over night! Some clues shared with us from the school office soon provided some evidence of what had happened! We have now been busy thinking about a beginning, middle and ending of our very own adventure story that we will be writing next week!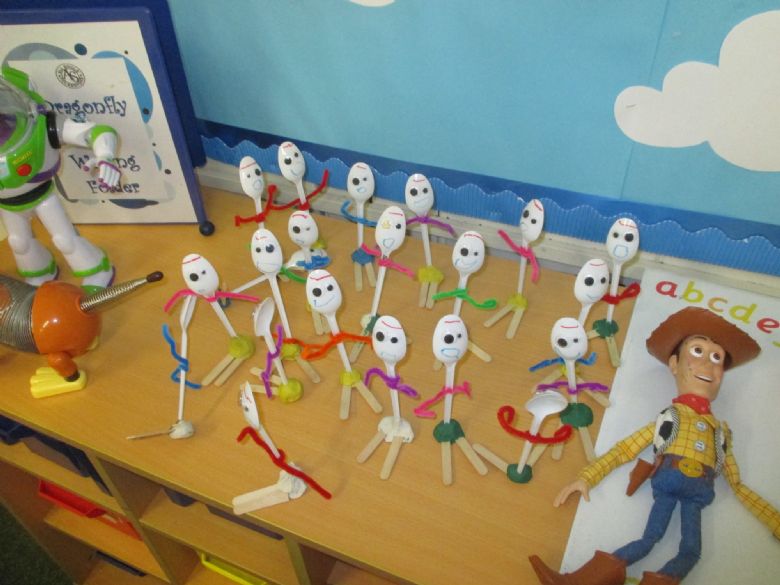 During our History lessons, we have also continued to use the Toy Story idea to embed our knowledge of old and modern toys, we started by thinking about the toys we use at home and school and, which are our favourites, what can you spot here?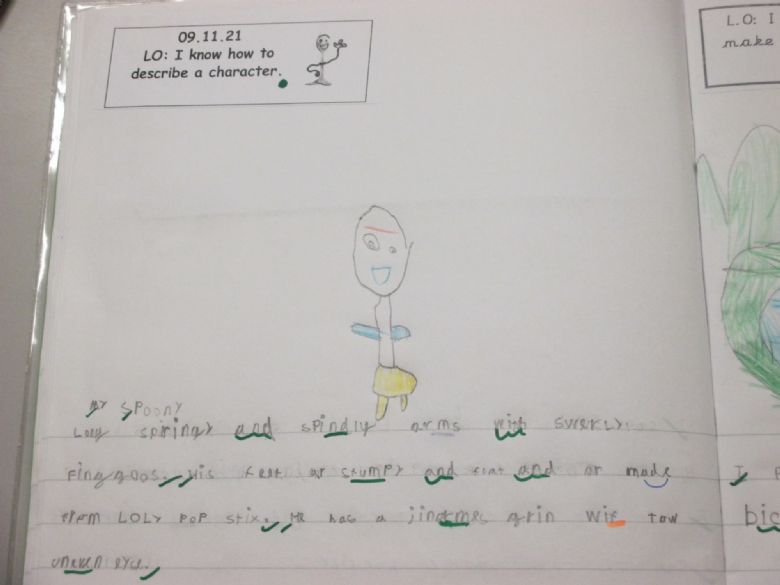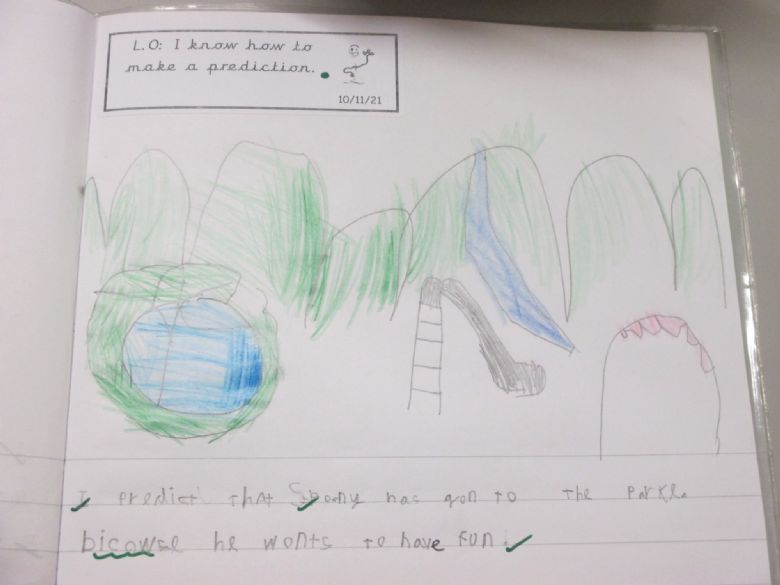 Wishing you all a wonderful weekend, we are sure there may be many 'sightings' of Spoony if you are out and about!
The Key Stage One Team.
Friday 5th November 2021
Remember, remember, the 5th of November!

We have had a busy week this week, learning all about Guy Fawkes and his Gundpowder Plot! In our History lessons, we used our skills to develop our knowledge of the timeline of events, we then wrote interesting facts that we could remember!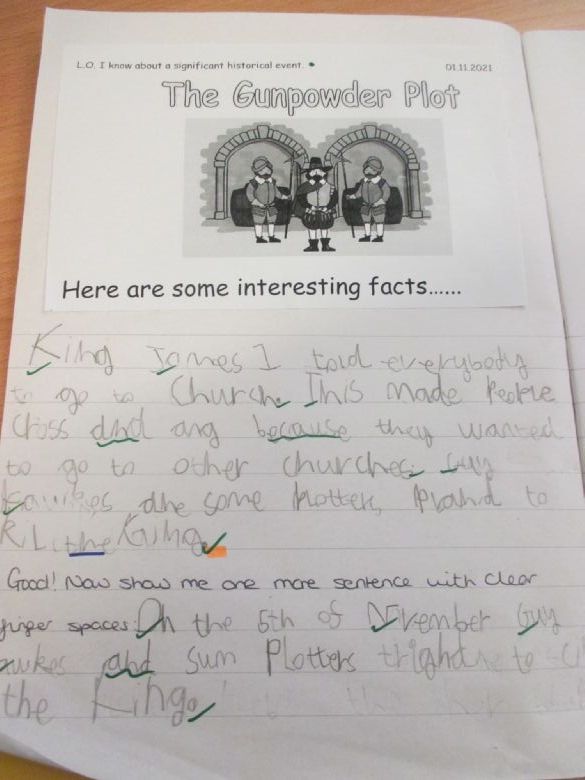 In Literacy, we focussed on the suffix 'ing' and used it to make our vocabulary bank of bonfire words, before moving on to create our very own bonfire poetry.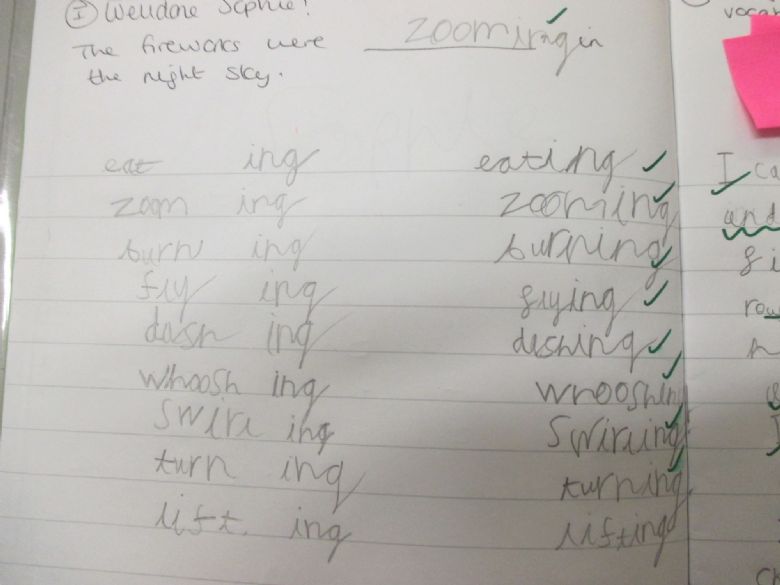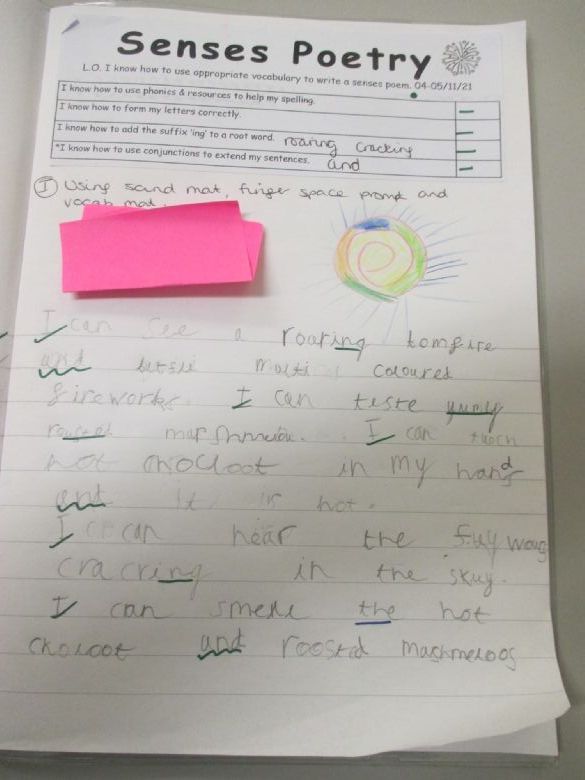 For our PE lessons, we have begun to think about dance and used our new knowledge of fireworks to help us create movement patterns with our bodies and ribbons. We also practised our coordination to complete a Mexican Wave! We managed to get quicker after a few attempts!
We wish you a very happy and safe weekend, enjoy any fireworks that you go to see, and we look forward to hearing all about them on Monday!
The KS1 Team.
Monday 1st November 2021
Welcome back to Term 2 KS1!
We hope you all had a restful and enjoyable half-term break.
Some notes to support you this term:
The school day now finishes at 3PM for all pupils, please see an email from Mrs Ransley explaining the logistics.
Parents evening appointments are now available to be booked, they are phone consultations. We look forward to speaking with as many of you as possible.
Caterpillars and Bumblebees have PE on a Wednesday- please come to school dressed in PE kit.
Dragonflies have PE on a Thursday- please come to school dressed in PE kit.
It is colder and wetter this term, please remember to send your child in with a coat every day.
Reading records and books need to be brought into school EVERY day, this will help us support your child's reading. Books will be changed twice a week. Please try to read at home for 5 minutes each day.
Home learning, Bug Club instructions and Wider Curriculum tasks can be found on the 'home learning' section of the website - Year 1 or Year 2.
As always, thank you for your on-going support, check back at the end of the week to see the learning we have been up to!
The Key Stage One Team